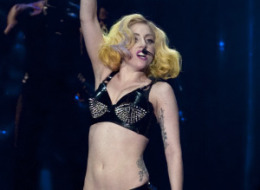 Why does Lady Gaga collapse ? It is noted here in excerpt form and and the complete article can be found through the link below.
Lady Gaga
is admitting recreational drug use and many other things that are far from healthy. We lose the Michael Jackson 's and Elvis Presley 's of the world , and AFTER they are gone, someone says "somebody should have done something"
On her heart palpitations:
"It's just from fatigue and other things. I'm very connected to my aunt, Joanne, who died of
lupus
. It's a very personal thing. I don't want my fans to be worried about me."
On whether she's been tested for lupus, which is genetic:
"Yes." Pause. "But I don't want anyone to be worried."
On the last time she needed emergency services:
"The other day. In Tokyo. I was having trouble breathing. I had a little oxygen, then I went on stage. I was OK. But like I say, I don't want anyone to worry."
Lady Gaga Talks Lupus, Eating & Smoking Habits